There are PDF supply lists in each description below. Classes are full-day unless otherwise noted. Some classes have links to blogposts to help you get a feel for what to bring. At some shows, class kits include some of the items on the supply list so no need to duplicate. Finally, if the show provides machines (check with organizers), no need to bring yours. Please contact me if you have questions.
Balinese Garden

This is a project class using fusible web and decorative and utility stitches on your sewing machine to make this small wall hanging, table runner or pillow top inspired by the lush gardens of Bali. This pattern would be stunning in vibrant batiks, a cream-to-toffee elegant color-scheme, a gentle pastel selection, or brights. Balinese Garden Class Supply List here.
Bindings and Piping and Facings Oh My! --an album of edge finish techniques:

Learn to make a perfect mitered binding straight grain bindings, double-fold bias bindings, piping, and couched yarns. Time permitting Sarah will share share fabric accents, fused bindings, wacky raw-edge squares and more. By the end of this class you'll have a "swatchbook" of samples and notes for future reference. Bindings and Piping and Facings Oh My! Class Supply List here.
For IQF Houston students

:
We will be in a classroom with Janome's wonderful machines which have many decorative stitches. Bring several colors of thread. You will wind a bobbin that is provided, so you can bring your full bobbins and re-wind them onto Janome's bobbin at the start of class. Starting in 2020 this class is being offered with a kit that includes four prepared quilt sandwiches and five strips of 2 1/2" wide bias. This means
you do not need to do the "homework" listed in the PDF class supply list!
New for 2019 and beyond

: if offered at a Quilt Show, Sarah can provide prequilted rectangles for each student. This kit option will come with six samples for use in class and at home. Additional rectangles may be available for purchase as well. Students will still need to bring thread and 2-4 fat quarters for bindings, piping and facing. Kit will be priced at time of booking.
Birch Pond Season--an intro to art quilting project:

Learn fusible applique, several techniques for "piecing" with fused fabrics, and how to make your own Birch Pond art quilt. I'll also cover facings as an edge finish and a range of fun ideas that will let you branch out on your own after class. Kit fee ($20) covers the cost of the pattern and one package of white MistyFuse (except when taught in stores; then, please purchase these items from the store). Class supply list here. Blogpost of previous class here. See pattern covers here; you do not need to purchase the pattern for this class.

IQF HOUSTON and other show STUDENTS: Don't bring sewing stuff (seam ripper etc) as we won't be sewing in class. The pattern, Mistyfuse, a half sheet of Transdoodle and a length of baking parchment (to use as a non-stick press sheet) are included in your kit, so you don't need to bring those from home. If you are flying in (not driving), instead of the portable ironing surface, bring a piece of cardboard or mat to transport your work from your table to the ironing station. I will have some 18mm rotary cutters, Fat Goddess non-stick press sheets, and micro-serrated scissors for sale, but if you have them already, just pack them into the suitcase.
Collage the Garden: From Photo to Flower

Learn Sarah's process of working from a photograph to create your own fused, collaged art quilt. This workshop can be 1 or 2 days (see below). Day 1 uses photos Sarah provides to create the pink water lily or the orange tiger lily (depending on the venue only one flower option may be available). There is a modest kit fee for this workshop; Sarah will provide a current price when the class is booked. If the venue wishes, this workshop can be expanded to two or three days to allow students to bring in their own photographs and begin work on their own artwork with Sarah to help guide them. The workshop can also be booked in conjunction with Quilting the Garden: Thread-Coloring the Flower to create a three-to-five day workshop. Click on the titles for the Supply Lists: one-day class, two-day class.
IQF Houston students: Your kit fee includes more than the usual (when teaching in a quilt shop or guild) materials. To make your Houston experience easy, you'll receive a full package of MistyFuse White, baking parchment (for non-stick fusing), many photo handouts, a sheet of transfer paper and a page protector. You will be in a classroom where machines are provided, so don't bring a machine, either.
For venues, if you may book this as a two-day workshop, the second day students build on what is learned during the first day. Students will share their own photographs, select one, and create their own top. (Note if you have trouble finding a suitable photograph of your own, google copy-right free images or get in touch with Sarah.) Quilts may range from small to medium, perhaps 12 inches on each side to 36 inches or so. We will spend more time on selecting a more detailed range of fabrics, preparing the fabrics for collage, marking, and constructing the components of the top. How much is accomplished will depend on the pace at which the student works, the complexity of the image and overall size.
Decorative Stitch Applique:

Make a small wallhanging or several small blocks which take full advantage of the decorative stitches on your sewing machine. Using fusible applique and an assortment of as many threads as you care to bring, you'll see how versatile a single leaf can be! The embroidery/decorative stitches you use in this class can be adapted to your choice of other applique methods. We will use fusibles in class so that you can make a wide selection during the class. The project samples can be used for a quilt, garment or home dec item. Decorative Stitch Supply List here. Houston students, please read next paragraph.
IQF Houston Students: We will be in a classroom with machines provided that have decorative stitches. For thread, bring a selection of colors that work well together. You don't need a huge cone of anything...a range of colors is better than a few large cones. We play with satin stitch, decorative stitches, layering stitches both side by side and one on top of the other, so threads that contrast are good, too!
Easy-Peasy Inside-Out Bag (and folio and binder and.....)

Make these quick easy bags from a zipper, two rectangles of fabric and a rectangle of batting. You can add custom pockets, sized to fit your needs, and embellish with buttons, ribbon, extra zipper tape, or beads. The basic pattern can be adapted to a sketchbook cover, an iPad / tablet case, business card or gift card case, even a paintbrush/pencil/pen holder. The orange bag and card holder were featured in the projects for the 2014 Quilting Arts Holiday issue. In a half-day class, students can probably complete one basic bag. In a full-day class, students can probably complete two bags or a bag and notebook/sketchbook cover. Here is the Easy-Peasy Inside-Out Bag Supply List. See a blogpost about these bags here.
For IQF Houston students: We will be in a classroom with machines that have lots of fun decorative stitches. Bring a selection of thread colors that work well together and with your fabric and zipper colors (I'll have a FEW zippers for sale, too). Can't wait to see you..these are SO much fun to make. Like potato chips....bet you can't make just one!
Fun not Fear! An Intro to Machine Quilting:

Machine quilting is fun! Learn what you need to know for hassle-free machine quilting. We'll try some special walking foot quilting, then move on to free motion which is as easy as writing! We begin with a digital overview of essential information, then dive in to the fun with both walking-foot and free-motion quilting a sampler of patterns, including writing your name in thread. . For the Intro to Machine Quilting Class Supply List, click here.
Hawaiian Applique by Machine:

Hawaiian quilts are beautiful in symmetry and bold design, but hand appliqué is time-consuming. Learn to create a Hawaiian-style masterpiece in a fraction of the time. Select an 18" block pattern provided by the instructor to begin a pillow top, small wall hanging, or begin a larger quilt, or work on a 6" block in class as practice for your 18" block at home. Hawaiian Applique by Machine Class Supply List
here
. To see a blogpost about this class, go
here
.
For IQF Houston students
: we will be in a classroom with machines provided. You do not need to bring a machine or presser feet, but bring several options for threads to audition which looks best with your chosen fabrics.
Machine Applique Three (and a half) Ways:

Officially, this class is retired, but it's still here just in case. Learn three methods of machine appliqué to create a gingko leaf or oval leaf wallhanging in a fraction of the time it would take to do hand appliqué. You'll learn fusible appliqué with satin stitch, freezer-paper-underneath appliqué, fusible interfacing underneath, and reverse. You should be able to complete three to five blocks during class. This class is suitable both for quilters and garment makers, who may wish to incorporate the blocks into garments, totebags, placemats and other projects. Machine Applique 3 1/2 Ways Supply List here.
Quilting Design
Stumped about how to quilt your quilt top? Have a stencil, but it's the wrong size? Can't find anything to go with that stencil? Then this is the class for you – whether you plan to quilt by hand or machine, learn how to choose a design that complements and enhances your quilt top. We will discuss how to choose a design, use a transparent overlay sheet to "test" options, considerations for the design depending on whether you plan to hand or machine quilt, and suitable threads. Can be a one-day, one and a half day or two day workshop. If students want more time to develop designs and practice the skills taught, the extended time helps! Quilting Design Class Supply List here.
Quilting the Garden Workshops

Collage the Garden: From Photo to Flower and Thread-Coloring the Garden are complementary workshops that can be booked individually or together as a Quilting the Garden extended workshop. Guilds, shops and shows can select one-day workshops up to a five-day master class that begins with learning Sarah's fused collage method through quilting the project and finishing. Please check the individual class listings for more information. For quilt shows where machines are provided, please do not bring your own machine, just drop that from the supply requirements.
Tame Fiddly Fussy Threads for Machine Quilting:

When you are comfortable with free-motion quilting, this class will help you take your skills to a new level! You don't need to think you are good at FMQ, just be willing to give it a go. Learn about different types of threads including cotton, polyester, rayon, metallic, flat metallic film, variegated, and how to use them to enhance your quilt. The morning will feature stencil-painting your solid dark background and I'll share tips and tricks for using fiddly threads. In the afternoon you'll continue to play with and learn to sew with these threads. For the Fussy Fiddly Class Supply List, click here.
For IQF Houston students: We will be in a classroom machines provided, so please don't bring your own machine! One less thing to haul to class!
Prerequisite: you must feel comfortable with free-motion quilting and be able to change the walking foot and free-motion foot on your machine without assistance.
Kit fee of about $44 covers four spools of specialty threads from Superior Threads, two pre-wound bobbins, plus paint supplies. Students have a choice of two colorways: blues or earthtones, and for the Glitter/metallics silver or gold. Additional thread is available for purchase if the class is not held in a store.
The Nest, a new approach to surface design

Create and use your own screen-printed fabrics to create this project (and a second piece of cloth) of a mixed-media nest. You'll receive a kit with your own take-home thermofax screen of Queen Anne's Lace and Sarah's hand-dyed cheesecloth and perle cotton, and use class paint supplies. In most surface design classes, the goal is the cloth. Here you'll learn to use the cloth as a supporting player for your own art. It's like getting custom-made (by you!) batiks, but with paint. Here is The Nest Supply List. Note that this can be offered as both a half-day and full day class. Bring fabric according to class length.
Thread Coloring the Garden

Learn to thread-color your top at the top or quilting stage. Rather than spend time creating a top (and worrying that you will mess it up), Sarah will provide a kit with a photo printed onto fabric (by Spoonflower) and a kit of thread suitable for the photo selected. The kit, cost of about $44, includes printed fabric, stabilizer, five spools of Superior Thread, and two pre-wound bobbins. You'll learn how to select threads, identify areas of light, medium and dark, and how to blend threads to provide smooth color transitions. By having a kit, you'll be certain to have the correct colors for the flower, and can fill in the greens from your own thread stash. Click here to see the Class Supply List.
IQF Houston students: we will be in a classroom with machines and appropriate presser feet provided.
Quilting the Garden: Collage the Garden and Thread-Coloring the Garden are complementary workshops that can be booked individually or together. Guilds, shops and shows can select one-day workshops up to a five-day master class that begins with learning Sarah's fused collage method through quilting the project and finishing.
How did she do that? Lecture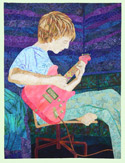 A digital trunk show supplemented with a few "live" quilts (more when in driving distance of Maine) and a conversation with me about how I made various quilts, including techniques, materials, moving from idea to cloth, and what I would definitely not do again! The quilts show how I work from initial concept to design, construction, quilting and final finishing. The quilts shown illustrate my collage technique using pre-fused fabrics to create realistic imagery, both portraits and landscapes, and then bring the quilt to life with intense free-motion stitching. The quilts in this digital trunk show include landscapes imaginary and realistic, a portrait of my older son, koi, a portrait of an African whom I photographed in 1982, a landscape from a photograph I took at Macchu Pichu in the late 80s, and much more. I love questions about what and how, so please ask during the lecture!
Inspiration in the Ordinary

Follow Sarah through the year to see how Inspiration from her daily dog walkies become creative fodder for her art. Using just photos taken on her cell phone, you'll learn fow she uses quick and easy snaps as a way to refine her skills in composition, color and design. Some of these photos even turned into quilts which she will share in this digital presentation supplemented with selected quilts.
Journal Quilts and Journals

Journal quilts are for everyone, not just art quilters! So what IS a journal quilt? It is a small thing, often the size of a piece of copy paper, that gives you a chance to learn a new technique or try out a new idea without using a lot of time or materials. Sarah will share her journals, what she learned from them and how she developed as an artist using, then she'll share inspiring journal quilts by others. Finally, learn how to make your own journal quilts and use a sketch journal to record quilt ideas and practice new techniques—you don't need to be an artist, just willing to see!
The Decorated Quilt: Beads, Embellishments and other Treasures

Beads are for more than making jewelry. Like bed quilts, art quilts are made of cloth, batting and thread, but they are displayed as works of art. Art quilters use beads and other treasures to enhance their quilts, to be a major design element, or even to cover the surface of a quilt. Sarah will share both her quilts and those of other leading art quilters whose styles range from minimalist to encrusted in a digital presentation.
With a Dash of Color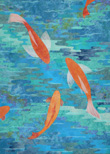 There are many ways to learn how to use color: a favorite sweater, a swatch of fabric, a magazine photo, or the color wheel. Sarah explains them all while showing her progress from first quilt to recent work.