Birch Pond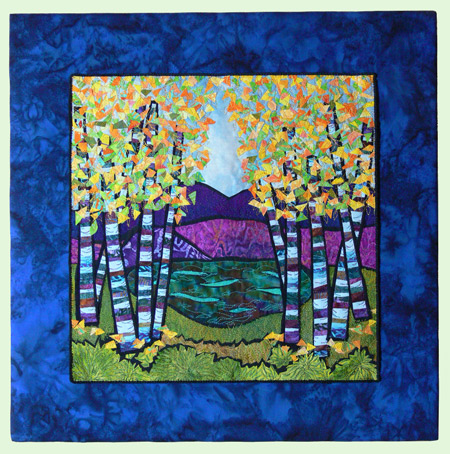 I've loved woodcuts for eons, and enjoyed receiving a seed catalog just to admire Mary Azarian's woodcut prints which illustrate it. When Laura Wasilowski came to teach at Maine Quilts in 2008 and offered her Woodcut Quilts class, I knew I wanted to take it. Of course, always the disobedient child, instead of using Laura's glorious hand-dyes, I used a lot of my own mini stash of fused batiks to make my project, a birch pond. I'm thrilled with the result.

Maine has ponds everywhere (thanks to the glaciers eons ago), and many birch trees, so my subject matter was easy. I used my own hand-dyeds as well as commercial batiks in this piece which is about 15x15 inches and mounted on 21x21 inch stretcher bars.

SOLD at the Ducktrap Bay Trading Company gallery, Camden, Maine.
Click
here
to see details of the quilt image.
| Back to Gallery |