Journals 2006, September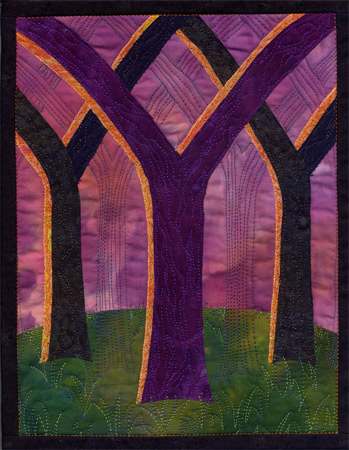 The last journal, for September, is the "Y" trees. This is shaded (darkened) secondary triadic colors: purple-green-orange. The fabrics are my hand-dyeds except for the two smaller trunks and the orange slivers. Since there was a lighter, sun-going-down spot on the sky, I highlighted / backlit the trees from that side with the orange. Then I "ghosted" in more trees in the intermediate spaces. This journal is a study for a larger quilt, and both are inspired by the backs of the chairs in the Lumiere Dining Room on the Disney Cruise Ship Magic! Very art deco, turned into landscape.... almost a Cathedral of the Nightwood......the branches of the trees like the flying buttresses on Gothic Cathedrals....

Size: 8 1/2 x 11 inches.
Not for sale at this time.
Click
here
to see details of the quilt image.
| Back to Gallery |