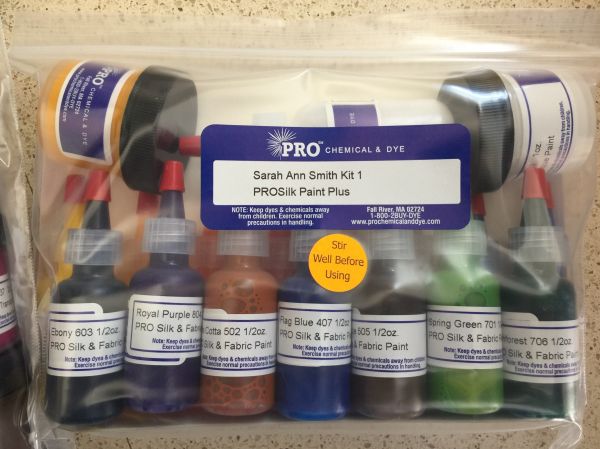 Sarah's PRO Silk Plus Kit #1
Sarah's custom kit includes both ProChemical and Dye ProSilk paints. This combination allows you to paint directly with the ProSilk paint, but also darken and *lighten* cloth to customize fabdric you already have.
Oct 16th: NOTE: This item is temporarily out of stock as I am waiting for a new supply order. It should be here in about a week. If you don't mind the wait, please order and I will have everything ready to ship out the very day the stock arrives. Thanks!
The kit includes:
ProSilk in 1/2 oz. squeeze bottles--fifteen colors
Sunshine 101
Buttercup 102
Orange Jubilee 201
Cherry 302
Raspberry Sorbet 304
Ocean Blue 402
Turquoise 405
Flag Blue 407
Sand Castle 501
Terra Cotta 502
Fudgsicle 505
Ebony 603
Spring Green 701
Rainforest 706
Purple 804
PRO Silk Fabric Extender, 1 oz. squeeze bottle
PROfab OPAQUE textile paint in 1 oz. jars
Opaque white 01 and
Gold yellow 12
Cost is $26 for the kit plus shipping--US shipping only (sorry to those outside the US). Current USPS flat rate medium box is $14.35. I will explore if I can ship for less (probably) using regional rate or regular shipping prices. BOTH Paint kits can fit in a medium box, please see "Two Kits" item which saves on shipping cost!
Available April 20th! $40.35 I will turn on the Add to Cart button about April 6th so you can pre-order. Please note that I will be travel teaching and cannot fill orders until on or after April 20. Thanks for understanding.
40.35