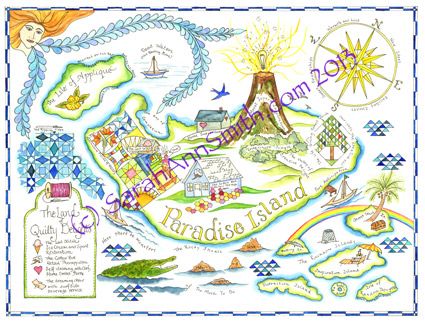 The Land of Quilty Delights
Welcome to "The Land of Quilty Delights," an imaginary land filled with all things quilty and featuring some of my favorite traditional blocks. Available as a giclee prints (archival, high quality, lightfast with a 100+ year rating) in 8 1/2 by 11 or-by special order- 11 by 14 inch sizes.

If you begin at Home Sweet Home, nestled on the westerly side of Mount Joyous Inspiration, travel clockwise around the map to visit a number of places familiar to any quilter:


Indecision Jungle (too many choices!)
The Life Giving Forest (a Tree of Life block)
The Valley of Creative Delight
Port Anticipation
The Rainbow Islands that include Full Bobbin Island, Secret Stash Island, Inspiration Island (complete with lounge chair and cold drink with paper umbrella)
The Rocky Shoals of Too Much to Do (work, chores)
Pass the Patchwork Fields of Plenty on Paradise Island (the main island)
into the Storm at Sea and
the Ripping Tides (seam ripper)
Visit the Isle of Applique (Satinstitch Beach, Needleturn Cove)
Pass under the gentle feathered vine breeze of Zephyra, the goddess of the west wind
get stalled in the Dead Zone (a.k.a. the Basting Zone)
before sailing into the Bay of Completion
where of course you can visit the Last Stitch Ice Cream and Soul Redemption stand
before making a stop at The Cotton Boll Retail Therapy Spa and Grandmother's Garden before heading home.
And there is a Compass Rose, of course, as the sun, with specially designated N-S-E-W. And the "Legend" will tell you Home Sweet Home is self-cleaning and comes equipped with a chef! No cooking, no cleaning, more time to quilt!
Can you tell I had a blast coming up with all of this????
Regular prints are sold out! You can custom order either size.
Available in 8 1/2 x 11 inch giclee print for $40 including shipping within the US. Shipped flat on acid-free foamcore.
Custom order 11 x 14 inch giclee print for $60 plus actual shipping (will vary depending on whether you want it shipped flat or rolled).
For outside-of-the-US shipping, please email me via the contact me page and I'll get you a quote for international shipping. Thanks!