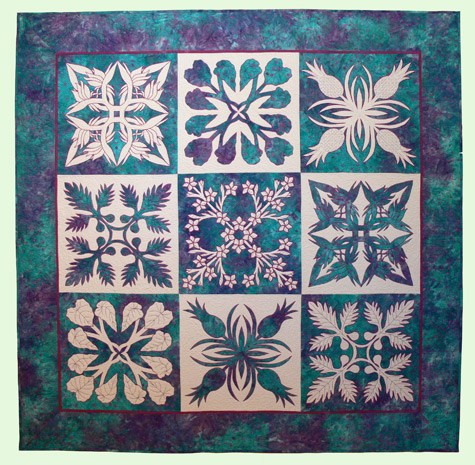 Nourish the Body, Nourish the Soul
Inspired by the beautiful symmetry of Hawaiian quilts and the islands' plants and flowers, I designed this quilt with food-plants and flowers, thing which nourish both body and soul. The Ulu or breadfruit is traditionally one's first quilt and the food is a staple in the traditional Hawaiian diet. Taro is also a food staple in the Hawaiian Islands and also in the South Pacific. The pineapple, synonymous with the hospitality in the United States during the early federal era, is also a beautiful plant. The bird of paradise plant grows abundantly in the island, and is stunning in its colors and lines. Finally, the plumeria (also called pikake) smells heavenly!

The Taro is the easiest of the five, while the many ins and outs of the Ulu block and the sharp points of the Bird of Paradise and Pineapple blocks make them more challenging. Plumeria is in the intermediate and up range, but is time consuming if you satin stitch every petal as I did. Although I have written the instructions for fusible, satin-stiched applique, if you want a challenge or prefer a finished edge, you could do these designs as turned edge by adding a seam allowance.

Full quilt is 64 by 64 inches. There is also a one-block version that finishes at 2 1/2 by 26 1/2.

To see this quilt in progress, visit my blog and type "nourish the body" into the search box.

Price includes shipping within the United States. For shipping to Canada or the rest of the world, please use the contact me page to receive a Paypal invoice with the correct shipping amount for international first class postage.
13.00